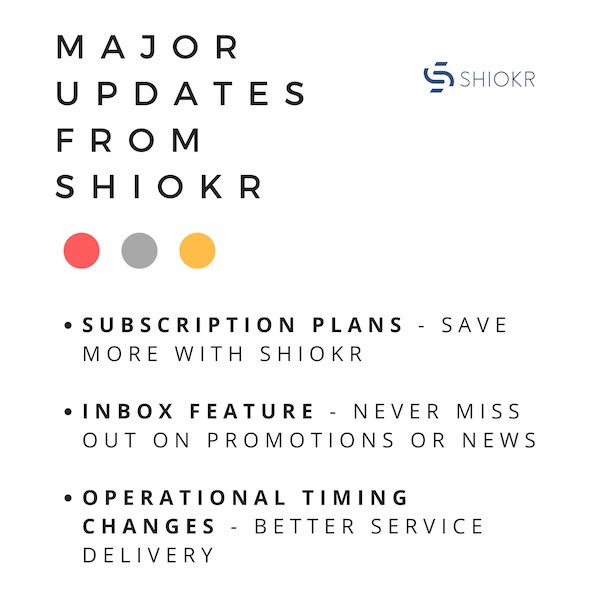 Hello,
It has been a while since we last communicated. Since the COVID-19 pandemic, many businesses have been affected, including ours. Like many others, we are persevering in these trying times to ensure that we can continue to provide quality service to you.
Amidst all the gloom, we are excited to bring you big changes to Shiokr. Starting this Saturday 8th of August, we will be launching the long-awaited subscription plans that have a multitude of benefits attached to it.
Subscription plans
The new price list will be:
$15.90 - Saloon Cars
$18.90 - MPVs / SUVs
$21.90 - MPVs / SUVs (Minivans Category)
With a subscription to the new plans, you will be able to receive $1, $3, or $4 off your car washes depending on the frequency.
Taking the Saloon Car category as an example, the price will be:
1x Saloon Car Wash Monthly - $14.90 Per Wash ($1 off)
2x Saloon Car Wash Monthly - $12.90 Per Wash ($3 off - The 2x plan is a time-limited offer that will only be available to customers of all vehicle types that signed up during launch. The pricing will remain the same if you do not cancel the subscription. Upon expiration, new customers will pay $13.90 Per Wash for this plan if they subscribed later)
4x Saloon Car Wash Monthly - $11.90 Per Wash ($4 off)
With the subscription plans, your car washes will be prioritized which should result in shorter waiting time. We will be recruiting more groomers over the coming month to ensure we can deliver on this as well. Whenever it comes to price changes, it will always have an impact on the business and its customers. Our team has pondered and discussed in-depth to make sure that we can provide value to you and ensure continuity to Shiokr.
Inbox
We are also adding a new feature to the app. The Inbox function will be made available to you together with the subscription plans, updating you with the current news and promotional offers that we have. No more missed notifications!
Change in operational timing
Lastly, we will be changing our weekend operational hours as well. The new operational timing will be from 3 pm to 1 am during the weekends. This change was made in consideration that many of our customers have long waiting time during the morning as there are limited groomers on the road. We would like to consolidate these bookings and make sure that they are accepted promptly.
The Shiokr Team will also be looking into providing more services to you in the coming months (including interior cleaning and tyre waxing). Expansions are also on the horizon, so keep a lookout for the next newsletter!
With love,
The Shiokr Team