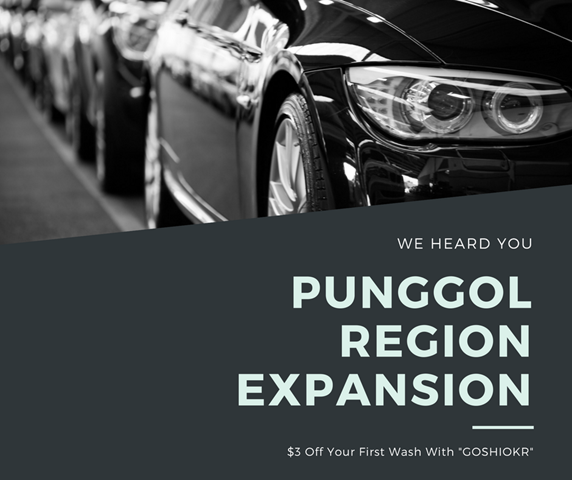 It has been a month since we launched Shiokr early access to Sengkang. Over the last month, we are extremely grateful for your support and our partners enjoyed their chats whenever any of you came down for a walkthrough on the waterless wash process. We read all your inquiries and suggestions ranging from a scheduler function for pre-booking, social media login, and many more. Feedbacks from you are taken seriously, and we are constantly looking to improve the app and our service.
We are excited to have some big news coming your way. For this coming update, we are glad to announce that early access for Punggol will be live on the 30th of March 2018, and we look forward to grooming your vehicle with the best products and service at this price range.
The app will be updated to include Facebook login function so that new customers will not have to go through the hassle of account creation. Many more features are planned and the team is working incredibly hard to provide you the best experience.
Updating customers on price increase are never easy, and the task will not be made easier when it is a young startup barely into their second month of operations that is bringing about the price increase.
We realize that in today's world, it is sometimes hard to make ends meet. We have made every attempt to avoid the increase, but we refuse to compromise on quality and hence this is our only recourse. We believe that you will agree that the quality of our service should not even waver from the high standard we have set.
After reviewing the pricing for saloon cars, and balancing to provide reasonable remuneration for our partners that spend 60–90 minutes of their time grooming your vehicle with the utmost care and attention; we will be adjusting our price for saloon cars to S$14.90 effective from 30th of March 2018. All other categories such as MPV/SUV will be unaffected.
This decision was made after a long period of deliberation, and we would have never done it if it was not necessary. We really seek your understanding on this matter, and we hope to serve you again.
For the last month or so, all of us at Shiokr are extremely grateful for your kind support, and we are happy to have you with us at the start of a very long journey.
Cheers,
The Shiokr Team